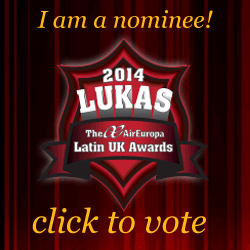 The public can now vote for their favourite dancers, musicians, restaurants, footballers, businesses and personalities at The Latin-UK Awards.
The LUKAS recognise the contribution of Britain's one million Latin American, Spanish and Portuguese residents to Music, Dance, Sports, Food, Business, Community and The Arts.
Please vote for your favourite candidates by clicking on the categories at  www.thelukas.co.uk.
How voting works:
There are two rounds of voting in The LUKAS 2014. The public can vote a total of two times for each award: once in February, the primary round, and once again in March, the final round, in which the long list is reduced to five finalists.
The first round of voting will end on March 5th. Finalists' votes will be carried through and voting will resume on March 6th. The final round will end on April 6th.  
The winners and runners up will be decided at the end of final round, with the public vote counting for 50% and the remaining 50% by votes from a panel of experts, selected for each award. The two percentages will be added up to decide the winner.  
Have you nominated a candidate?
If you have nominated someone for an award, please check in the list to make sure they are there. If there is a mistake please let us know. We are doing all we can to reach the nominees and let them know but please help us by informing any nominee you know of their nomination
We will be receiving nominations until February 25th so if you would like to nominate someone else for an award, please send us the nominees name, award being nominated for, their email and website to info@thelukas.co.uk   
 
Support for candidate's campaigns
If you know a nominee please pass on these banners to them which they can use on their websites to support their campaigns: