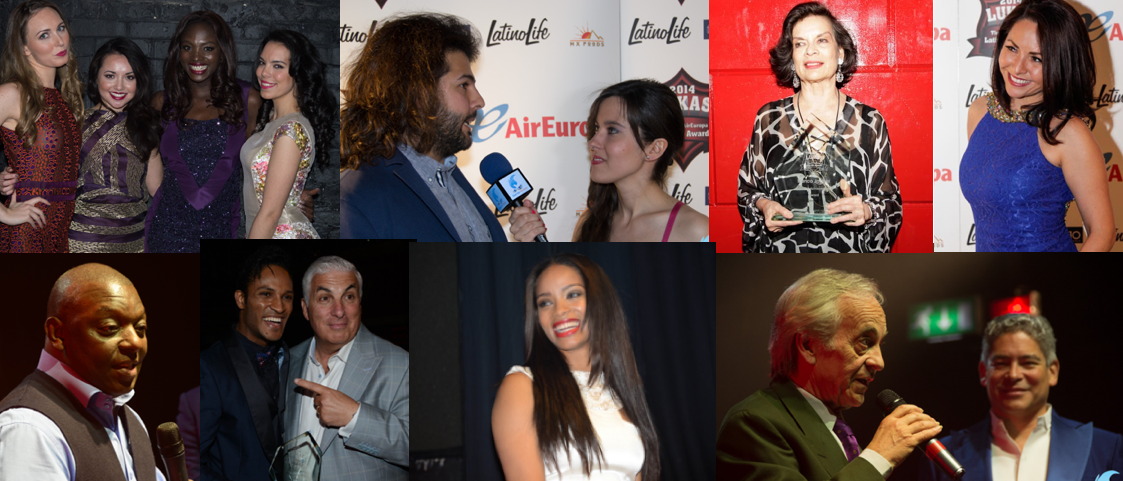 The LUKAS 2014 Gala ceremony took place one Wednesday 30th April at KOKO.
The UK's fastest growing awards ceremony celebrated the nation's most popular Latin American and Spanish music, dance and sports performers and community and business personalities. They were joined by style icon and human rights activist Bianca Jagger, football legend Ossie Ardiles, Flamenco maestro Paco Peña, who received lifetime achievment awards, an array of celebrities and public figures and hundreds Latin culture fans, at the packed venue.
The show opened spectacularly by Salsa Explosion, choreographed by Richard Marcel (BBC's Strictly) featuring 12 of the UK's best salsa dancers, followed by Raquel Greenberg and Iris de Brito, performing a unique Tango - Kizomba Medley, The Samba Girls of DANCEMYWAY and a very special performance by Rafael Amargo, Spain's leading flamenco artist.
There was live music by Puerto Rican salsa star Yan Collazo from Puerto Rico, Zeu Acevedo, Dorance Lorza, Tropicalia and Vocalist of the Year Javier Moreno.
Rafael Amargo told the Spanish TV network Canal Sur on the night "This event, which recognises our Spanish and Latin cultures, in a great city like London, is a perfect excuse for all of us to get together and celebrate"
On receiving his award Spurs legend Osvaldo Ardiles, pne of the first foreign footballers to play in the Premier League, said: "This is a beautiful award and I receive it with a great deal of respect for the Latin American community, which has come such a long way since me and Ricky (Villa) first came. Our cultures have given a huge amount to British society, if you think about sports, music and food its incredible the progress we have made here and this is a wondreful way of celebrating it."
Bianca Jagger said the day after: "I had a wonderful time at the LUKAS Award evening. Thank you for all your efforts. It meant a lot to me to receive the LUKAS 'Lifetime Achievement Award' for Contribution to Human Rights."
Click below for more: